Gambling in Alaska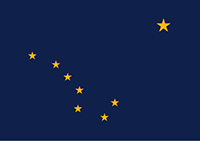 Alaska offers little in the way of legalized gambling. The main gaming attraction is tribal bingo. There are seven Alaska bingo halls that are operated by native entities. Many offer nightly bingo games and permit automatic daubs.
Pull tabs are also permitted. These are essentially lottery tickets with prizes paid out of the pool and operated by the same companies that own the bingo halls.
These forms of gambling are permitted when the proceeds go towards charitable organizations. None of these establishments are anything beyond small gambling halls. Slots, video poker and table games are all illegal under Alaska state law.
Alaskans have few options for casinos. There are small gaming establishments to the east in British Columbia and the Yukon Territory. None of the Canadian casinos near the Alaskan border are of any significance, offering only a small selection of slots and video poker in a bar setting.
Players looking for poker and table games will need to take a flight to the lower 48 states. Alaska Airlines offers nonstop flights to Las Vegas and Seattle from several Alaskan cities.
One-time Lottery Drawing
Alaska does not permit state lotteries in the traditional sense. There was a one-time drawing in 2009 held by the Standing Together Against Rape nonprofit foundation. The grand prize was $500,000. In one of the most bizarre instances in legalized gambling, a registered sex offender won this prize that benefited victims of the crimes the winner was convicted of committing. This caused uproar in Alaska. The winner was attacked days after in what the victim described as a robbery. No similar drawings have been held since.
The depressed oil industry created an economic slowdown in Alaska. Gambling is one idea pushed to help balance the state budget. Many feel a state lottery may be the answer. The discussion of legalized gambling in Alaska is still in the early phases.
Legal Online Gambling in Alaska
There is just one form of legalized online gaming in Alaska: fantasy sports. Alaskans are permitted to enter contests at sites that offer season-long and daily fantasy games. These include CBS Sports, Yahoo, DraftKings and FanDuel. Fantasy sports fall under skill gaming laws in Alaska. The state's attorney general has yet to issue an opinion contrary to the industry's position and there is no pending DFS legislation.
Skill games and sweepstake sites are also legal in Alaska. This includes poker sweepstakes site WPT Poker and skill game company GSN Games, also known as Worldwinner.
Any site that offers online poker, casino, sports betting or racing over the Internet is not legal in Alaska. Players should use extreme caution when considering giving action to these companies.
Online gaming works — it's been licensed in Europe for years, and in the US it's already licensed in New Jersey, Nevada, and in Delaware. If you are a resident of the fine state of Alaska, don't just sit there — make your voice heard.
Related Casinos