New Hampshire Gambling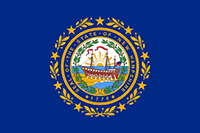 There is little in the way of gambling in New Hampshire. It is limited to racing, a state lottery and charity gaming. There is some online betting available to New Hampshire residents.
New Hampshire Horse Racing
Rockingham Park is the only racetrack in New Hampshire. It dates back to June 28, 1906. That is when the first betting on horses occurred at the track. Like many other places, the horseracing industry is in decline in New Hampshire. Rockingham Park no longer offers live races. There is still an off-track betting parlor at the site. Phone bets are also accepted at Rockingham Park. The track offers charitable gambling and bingo.
A bill that banned greyhound racing was signed into law on July 8, 2010. It went into effect on January 1, 2011. Seabrook Greyhound Park's live racing was put out of business by this law. The track still operates an off-track betting parlor and a charity casino. Phone wagers are accepted on races. The law only made live greyhound racing unlawful. Off-track betting on dogs is still legal.
North Dakota licenses Bet America which accepts legal online wagers for horse racing, dog racing and fantasy sports. This is legal for residents of this state (please read their terms and conditions to ensure this has not changed).

New Hampshire Lottery
New Hampshire became the first state to legalize a state lottery in 1964. Scratch-off tickets and lotto drawings. Interstate lotto drawings include Powerball, Mega Millions and Megabucks Plus.
Lotto ticket subscriptions may be purchased at the state's 1,250 lottery retailers. Quarterly, biannual and annual subscriptions are available. Subscriptions may also be purchased on the lottery's website.
New Hampshire Online Gambling
In addition to online lotto ticket sales, New Hampshire players can place racing wagers over the Internet. This includes horses and greyhounds. Races from across the country are on the board at sites like TVG and TwinSpires. The company's websites and mobile apps offer betting. This includes an Android or iOS.
Daily fantasy sports remain unchallenged in New Hampshire. No action has been taken by the attorney general or the state legislature. The industry maintains that it falls under New Hampshire's skill gaming laws. New Hampshire residents may bet on daily fantasy sites like FanDuel and DraftKings, which comprise about 90 percent of the U.S. market between them.
There are many sites that offer poker, casino games and sports betting in New Hampshire. Some even claim to be legal. There are no licensed gambling sites in New Hampshire outside of horseracing. This includes daily fantasy sports. Players should consider the risks before depositing.
New Hampshire Charity Gambling
New Hampshire permits charities to have casino nights. Some take this so far as to have full spread casinos open daily with the proceeds going to nonprofit organizations. Live poker, bingo, blackjack, craps, roulette and Three Card Poker are among the games available. Slots and video poker are not legal in New Hampshire, even at charity casinos.