Tennessee Gambling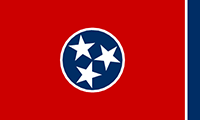 There is little in the way of legalized gambling in Tennessee. It was the latest state to legalize some form of gambling.
There are no casinos, racetracks or licensed online betting sites that operate in the state. Tennessee residents must travel to neighboring states to gamble. This includes racetracks in Kentucky and Arkansas or casinos in Mississippi, North Carolina or West Virginia.
Tennessee Lottery
The Tennessee Lottery was approved by voters through a 2002 constitutional amendment. It became the 48th state to legalize a form of gambling. Utah and Hawaii are the only two states left without any gaming.
The first Tennessee Lottery ticket was sold on January 20, 2004. It consists of scratch-off tickets and lotto drawings. Tennessee was one of the first states to stop using balls in lotto drawings. A computerized random number generator now picks numbers for jackpots.
North Dakota licenses Bet America which accepts legal online wagers for horse racing, dog racing and fantasy sports. This is legal for residents of this state (please read their terms and conditions to ensure this has not changed).

Tennessee Horse Racing
The Racing Control Act legalized pari-mutuel betting on horses in 1987. The law established rules that regulated racetracks where bets were pooled. The Tennessee Racing Commission was created to regulate the tracks. It disbanded due to a lack of interest and push back from conservatives in the state.
The dissolution of the racing commission automatically made betting on horses illegal after one year. Tennessee pari-mutuel betting became unlawful after June 30, 1998.
Tennessee Online Betting
There is one form of legalized online betting in Tennessee. Off-track betting is permitted in the state if it is conducted over the Internet. This is a loophole that permits the activity if conducted out of the state, according to companies that provide the service, including TVG and Twinspires.
Tennessee bettors may download an app to make wagers on horses. Online wagering at related websites is also permitted.
There are numerous poker, sports and casino sites that accept Tennessee players. None are licensed to operate in the state.
Tennessee Daily Fantasy Sports
Daily fantasy sports is legal in Tennessee, according to sites like FanDuel and DraftKings. Tennessee law defines gambling as "contrary to the public policy of this state and means risking anything of value for a profit whose return is to any degree contingent on chance," making some question the claim of legality of fantasy sports. Tennessee's "any degree contingent on chance" is much stricter than the language of other states, which made the legality of daily fantasy sports debatable. No action had been taken by Tennessee authorities against any daily fantasy site. In early April 2016, the Attorney General declared fantasy sports illegal under Tennessee law "in absence of specific legislation that exempts it". In April 2016, Gov. Bill Haslam signed a bill legalising daily fantasy sports which goes into force on July 1, 2016.
Bingo Illegal in Tennessee
Tennessee is one of just four states that do not permit bingo, even for charitable purposes. This is because there was once a bingo racket in the state.
The Tennessee Legislature legalized charitable bingo in 1971. It permitted charities to spread the games. More often than not, bingo was spread by organized crime syndicates. In 1986, the FBI got involved in an investigation called "Operation Rocky Top." It uncovered corruption that involved illegal payments to state employees to help cover up the crimes. The investigation netted 50 convictions related to illegal gambling and corruption.
Operation Rocky Top incentivized the state to ban bingo games. Charities may offer one drawing per year with express permission from the state attorney general's office. Several attempts have been made to return legalized bingo to Tennessee. None have been successful.
Online gaming works — it's been licensed in Europe for years, and in the US it's already licensed in New Jersey, Nevada, and in Delaware. If you are a resident of the fine state of Tennessee, don't just sit there — make your voice heard.