Colorado Gambling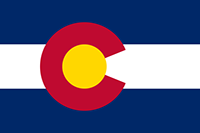 Colorado was one of the earlier casino states. It all started in 1990 with a statewide referendum. The vote authorized a constitutional amendment to permit casinos in three former mining towns that were on their way to ghost town status. Voters approved the measure.
The limits were very small at the time. There was a $5 maximum bet that applied to all games. Slots, video poker, poker and table games that required skill were permitted. Casinos were not allowed to spread gaming 24 hours.
As casino gaming spread in nearby states, Colorado casinos became unable to compete with these low limits. Voters approved an expansion of gambling in November 2008. This allowed for 24-hour casinos, as well as craps and roulette. The bet limits were raised to $100. The rules went into effect on July 2, 2009.
Casinos are only legal in Black Hawk, Central City and Cripple Creek. There are also two Indian reservations with the same rules located on the Sky Ute and Southern Ute tribal lands. The only difference between commercial casinos and the tribal ones is that the statewide indoor smoking ban does not apply to reservations. The games and limits are identical.
Colorado Lottery
Voters approved a constitutional amendment to create a state lottery in 1983. The typical scratch-off tickets and lotto drawings are offered. This includes Mega Millions and Powerball multi-state jackpots.
North Dakota licenses Bet America which accepts legal online wagers for horse racing, dog racing and fantasy sports. This is legal for residents of this state (please read their terms and conditions to ensure this has not changed).

Colorado Racing
There is one horse racing venue in Colorado. It is located in Aurora. Off-track betting is permitted at the track in the race book and over the Internet at sites like TVG and TwinSpires.
Greyhound racing once operated in Colorado. A total of five tracks existed off and on between 1948 and 2008. The last was the Mile High Greyhound Park.
After suffering massive losses, the Mile High Greyhound Park shuttered in 2008. Greyhound racing remained legal, even without any actual tracks operating.
Animal rights groups lobbied the state legislature heavily to ban the activity. In March 2014, they were successful. That was when Governor John Hickenlooper signed a bill into law that made greyhound racing illegal in Colorado. It ran into little opposition on its way to becoming law. There was no greyhound industry left to fight it.
Colorado Online Gambling
The only form of online gambling specifically legal is off-track horse racing. Bettors may place wagers at TVG and TwinSpires and watch the races on simulcast television stations.
In June 2016, Colorado became the fifth US state to legalise daily fantasy sports when Gov. John Hickenlooper signed HB1404 into law.
Some Colorado lawmakers discussed the legalization of online poker in 2013. In December of that year, Colorado Attorney General John Suthers issued an opinion that a constitutional amendment would be required to legalize and regulate online poker in the state. The same memorandum applies to online casino games.
There are many sites that accept bets from Colorado residents over the Internet. This includes casinos, poker sites and sports betting. These websites are not licensed to operate in Colorado. They are located offshore.
Colorado Bingo
Charities may offer bingo. The state's two reservation casinos are also permitted to operate it.
Online gaming works — it's been licensed in Europe for years, and in the US it's already licensed in New Jersey, Nevada, and in Delaware. If you are a resident of the fine state of Colorado, don't just sit there — make your voice heard.