Alabama Gambling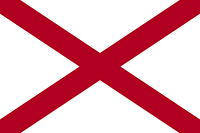 Alabama has legalized casinos — no less than three tribal casinos. Yet nothing is online yet. If you live in the heart of Dixie – don't just sit there – get busy. Contact your local congress person, and let him or her know it's time to join the 21st century.
Alabama Live and Online Gambling Laws
Alabama is not known for its gambling industry. There is no state lottery and its definition of casino is a bit of a stretch. Online gaming still has not made its way to Alabama, at least in a regulated way. There are still a few ways to have fun playing some games of chance for money.
Alabama Casinos
There are three casinos in Alabama. All are on land belonging to the Poarch Band of the Creek Indians. These casinos are found in Atmore, Watumpka and Montgomery. The casinos operate under the name Wind Creek and Creek Casino and offer resort amenities, including a hotel, restaurants and spa.
Alabama casinos do not operate games that are found in most states. The machines at the Creek Indian casinos are actually video bingo devices. The games are not played with other people. The games mimic slot machines. The devices use a digital display to show the win based on how quickly the player or the bank of machines hits the winner.
Casinos in Alabama do not offer table games or video poker. The slots in the state are closer to bingo machines than slots. Gamblers looking for real casino action will need to travel west to Mississippi for poker, video poker, craps, blackjack, roulette and other house-banked games. Players near the Gulf of Mexico will find some action in the Florida panhandle.
Alabama's tribal casinos are not without controversy. Alabama Attorney General Luther Strange challenged the legality of video bingo casinos in the state. A lower court ruled in 2014 that these casinos were legal under the Indian Gambling Regulatory Act as an extension of charity bingo. The 11th Circuit Court of Appeals upheld that ruling in 2015. Alabama Governor Robert Bentley and the Legislature are working on a gaming compact with the Poarch Creek tribe that would bring tax revenue to the state.
Alabama Dog Racing
There are four dog racing tracks in Alabama. The first racetrack opened in Alabama in 1973. At one point the state hosted the highest grossing racetrack in the country in Shorter, known as VictoryLand.
Simulcast betting on dogs and horse is also permitted. While most states with legal racing permit wagers over the Internet or on a mobile app, Alabama does not. Off-track bets must be placed in simulcast lounges on the premises of a licensed racetrack.
Video Bingo Fight
Video bingo machines appeared at Alabama's tracks in the 1990's. Voters in these counties approved bingo to benefit charities. Auto daubing was considered to be appropriate for all bingo games. Video bingo was created through this loophole at the tracks and numerous other establishments throughout counties that approved bingo.
Once it became apparent that these devices were legal in Alabama, the three Creek casinos opened with similar games. Tribal video bingo does not have to pay taxes or donate any profits to registered charities. The tribe cited the Indian Gaming Regulatory Act as permitting the same gaming allowed off reservations tax-free.
Alabama Attorney General Luther Strange declared these games to be illegal in 2010. He demanded that all racetracks stop spreading video bingo. The racetracks refused. Attorney General Strange raided the racinos one-by-one, accusing each of operating an illegal gambling business. The racinos attempted to get the games specifically legalized through the state legislature during this time. The lobbying effort failed.
The owner of VictoryLand and 10 others were accused of bribery in a case where the parties attempted to get video bingo legalized at the state level, even though it was believed by that side that it was permitted through county referendum. Five pleaded guilty to lesser charges. Six went to trial and were all acquitted.
VictoryLand reopened with the same devices in 2012. It was once again raided. It currently only operates simulcast racing. VictoryLand's live racing is suspended due to the financial hardship created by the legal issues at the property. Three other tracks in the state – Birmingham, Mobile and Greenetrack – all offer live and simulcast races.
No movement to legalize online casinos
Alabama is a conservative state with little appetite for gambling in the legislature. There have been no attempts to legalize any forms of online gambling. This includes poker, casino and horse racing. While still awaiting the outcome of committee hearings on a DFS bill, DraftKings and FanDuel have left the market in compliance with a "cease and desist" letter from state Attorney General Luther Strange.
Online gaming works — it's been licensed in Europe for years, and in the US it's already licensed in New Jersey, Nevada, and in Delaware. If you are a resident of the fine state of Alabama, don't just sit there — make your voice heard.
Related Casinos