Indiana Gambling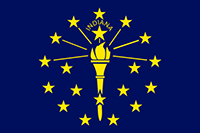 Indiana was involved in the first boom of casinos in the early 90s. It needed to do so to keep up with neighboring Illinois, as well as other states to the west. There are a few other forms of gambling that go beyond casinos. This includes some that is permitted over the Internet.
Indiana Horse Racing
Horseracing is the oldest form of gambling in Indiana. There are two racetracks in Indiana. One is Hoosier Park in Anderson. The other is Indiana Grand. These tracks offer horseracing and off-track betting. The two racetracks are now permitted to offer video gaming. This includes slot machines, video poker, electronic table games and PokerPro e-tables that spread Texas Hold'em, Omaha and Seven Card Stud. Live table games are not permitted at Indiana racinos.
Indiana Lottery
Indiana voters approved a state constitutional amendment that created a lottery in November 1988. The state legislature ratified it in May 1989. The first scratch-off ticket was sold in October 1989. The first lotto ticket was sold six months later. Scratch-off tickets and lotto drawings continue to be the sole sources of revenue for the Indiana Lottery.
North Dakota licenses Bet America which accepts legal online wagers for horse racing, dog racing and fantasy sports. This is legal for residents of this state (please read their terms and conditions to ensure this has not changed).

Indiana Casinos
Indiana voters authorized riverboat casinos in 1993. This created 11 casino licenses in the state. Five licenses each were created for Lake Michigan and the Ohio River. Patoka Lake received the other license. The Patoka Lake license became a land-based one in 2003. All games available in Las Vegas casinos are spread in Indiana. This includes slots, video poker, blackjack, roulette, craps, live poker and house-banked poker games. There are no bet limits in Indiana.
Indiana Bingo
Charities are permitted to spread bingo to fund operations. This law does not extend to the state's casinos. It is the lone advantage charities enjoy over the riverboats.
Indiana Online Gambling
There is just one form of legalized online gambling in Indiana. Bettors may use Android and iOS mobile apps and the Internet to place wagers on horseracing.
Hoosier Park and Indiana Grand offer online betting through their respective websites. Interstate sites that include TVG and TwinSpires also offer betting on horses.
In March 2016, the Indiana Senate voted to regulate and licence daily fantasy sports.
There are many online poker, casino and sports betting sites that accept players from Indiana. None are licensed to operate in the state. These websites are not connected to any of the state's casinos. Players should understand that there is no recourse if there is a dispute over payouts or unfair games.
Online gaming works — it's been licensed in Europe for years, and in the US it's already licensed in New Jersey, Nevada, and in Delaware. If you are a resident of the fine state of Indiana, don't just sit there — make your voice heard.