West Virginia Gambling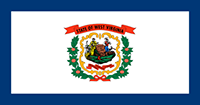 North Dakota licenses Bet America which accepts legal online wagers for horse racing, dog racing and fantasy sports. This is legal for residents of this state (please read their terms and conditions to ensure this has not changed).

West Virginia Live and Online Gambling Laws
West Virginia has a history of being a gambling friendly state. A wide range of gambling is legal in the state. This includes casinos, convenience and even some online versions.
West Virginia Lottery
West Virginia voters approved a state lottery in November 1984. The first tickets were sold on January 9, 1986. These were of the scratch-off variety. Lotto drawings, including interstate ones, were later added. West Virginia does not yet permit the purchase of lottery tickets over the Internet.
West Virginia Racetracks
There are four racetracks in West Virginia. Two offer horse racing. The other two are greyhound tracks. Off-track betting is also legal at these tracks. All four are now permitted to offer gaming beyond pari-mutuel pools.
Video Lottery
Video poker machines started to enter the state in the 1990's. In 1994, a video lottery was created. At first, these games were only permitted to operate at the state's four racetracks. Video poker and slots were approved. Table games could not be spread when gambling expansion in West Virginia was first approved.
Some bars and other establishments in West Virginia decided to spread gray machines during this era. In 2001, video lottery was expanded to any establishment with an alcohol license. There are a few regulations. These include the fact that casinos and gambling may not be openly advertised. The names of the businesses cannot describe any gambling terms. Machines that pre-dated the legalization were forced out of commission.
The number of legal video lottery machines permitted at these establishments is 9,000. Video poker, keno and slots are the only allowable games.
West Virginia Casino Expansion
West Virginia racinos were not happy about the expansion of convenience gambling. The owners of the racetracks lobbied to expand gambling to table games. This was finally approved in June 2007. West Virginia's four racinos now spread blackjack, craps, roulette, poker and house-banked card games, in addition to slots and video poker.
Voters approved expanding casino gaming to the Greenbrier in White Sulphur Springs in November 2008. The casino opened on July 2, 2010. This historic resort was once home to the congressional bomb shelter. It is a private resort that also offers a sporting and gold club. Hotel guests and members of the private clubs are the only ones permitted to enter the casino. There is a strict dress code that includes a jacket for men and evening wear for women. It is the only smoke-free casino in West Virginia.
West Virginia Legal Online Gambling
There are two forms of legal online gambling in West Virginia. Off-track betting is permitted over the Internet and on mobile apps. Companies that provide this service include Betfair's TVG and Twinspires, operated by Churchill Downs.
Daily fantasy sports betting is also permitted in West Virginia. It falls under the state's skill gaming laws. Sites that accept fantasy sports action from West Virginians include DraftKings, FanDuel, Yahoo and CBS Sportsline.
There are dozens of poker, casino and sports betting sites that accept bets from West Virginia players. None of these sites are licensed to operate in the state.
Bingo
West Virginia permits charities to operate bingo parlors. Auto-daubing is allowed. These establishments may spread video lottery terminals if alcohol is served.