Kansas Gambling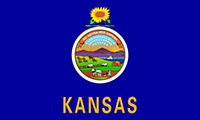 Kansas offers several forms of legal gambling. This includes two online versions. There are also casinos, as well as a state lottery.
Kansas Racing
Horse and greyhound racing are permitted in Kansas. While that is the case, all tracks are currently shuttered. This was due to a lack of interest after casino gambling expanded into Missouri and Oklahoma.
This may change in the future. Las Vegas casino owner Phil Ruffin recently acquired the Woodlands Racetrack. There is hope among the horsemen that Ruffin will bring live racing back to the state. There may be incentive to do so. A bill passed by the state senate would permit slots at racetracks. The bill has yet to pass the state assembly.
The Kansas Expanded Lottery Act permits a small offering of casino games at pari-mutuel facilities. None have attempted to enter this market at this time as all qualifying properties are shuttered.
Kansas Lottery
Kansas voters approved a constitutional amendment in November 1986 that created the state lottery. The state legislature approved the framework under the Kansas Lottery Act the following year. The first lottery tickets were sold on November 12, 1987. Scratch-off and lotto tickets are sold through the state lottery. The most popular lottery games are Powerball and Mega Millions where players can hit nine-figure jackpots.
Kansas Casinos
The Kansas Expanded Lottery Act created four zones in the state where casinos are permitted. These are broken up directionally and not based on population. Destination casinos operate in these zones. All games that one would find in Nevada and Atlantic City are spread. This includes live poker, slots, video poker, craps, roulette, blackjack and house-banked poker games.
The state's casinos are exempted from the smoking ban that covers virtually all other businesses in Kansas. The state essentially owns all four casinos through the lottery, as required by the Kansas Expanded Lottery Act.
In addition to the state's four lottery casinos, there are five tribal ones. These range from small slot parlors to destination casinos. The same games are offered on reservations that are spread in the state's lottery casinos.
North Dakota licenses Bet America which accepts legal online wagers for horse racing, dog racing and fantasy sports. This is legal for residents of this state (please read their terms and conditions to ensure this has not changed).

Kansas Bingo
Charity bingo is permitted in the state. This law allows reservation casinos to spread the game in a commercial format.
Kansas Online Gambling
There are two forms of legalized online gambling in Kansas. Off-track betting on horses is legal through Android and iOS mobile apps, as well as related websites. Participants in this market include TVG and TwinSpires. The state's defunct racetracks do not offer these services.
Daily fantasy sports are specifically legal in the state. Originally, Kansas barred fantasy sports contests. The state legislature addressed this issue in 2015 after a massive lobbying effort by daily fantasy sites.
In May 2015, Governor Sam Brownback signed a bill (HB2155) into law that authorized real-money daily fantasy sports.
There are dozens of offshore gambling sites that accept Kansas residents. These companies spread games like online poker, casino games and sports betting. None are licensed to operate in the state and are presumably illegal. While no player or site has ever been charged with a crime in Kansas, players should at least be aware that their funds may not be safe. There is no gaming commission to complain to if there is a problem.
Online gaming works — it's been licensed in Europe for years, and in the US it's already licensed in New Jersey, Nevada, and in Delaware. If you are a resident of the fine state of Kansas, don't just sit there — make your voice heard.