Georgia Gambling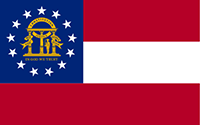 Georgia is not a state most people think of when it comes to gambling. While that is true, it does offer several legal forms.
It all started in 1992 when voters approved a constitutional amendment that created the Georgia Lottery. This includes scratch off tickets, interstate drawings and keno. At the time of its launch in 1993, the Georgia Lottery was the highest grossing of its kind in the country. Legalized gambling goes beyond the lottery in Georgia. Cruise ships leave Savannah and Brunswick daily. These boats go out to sea into international waters. Once that happens, slots, video poker and table games all open to guests. The boats go out for several hours daily before returning to shore.
Georgia created a video lottery in 2014. This turned gray machines in bars and convenience stores into legalized gambling. These devices are skill based slots. The games display a set of slot symbols and permit the player to use skill to move a reel one spot. These skill slots fell under the laws that legalized games at Chuck E Cheese and Dave and Busters. The state decided to tax the games to generate income for the lottery.
By law, video lottery machines may not pay cash. Players may win lottery tickets, gift cards or merchandise that is not tobacco or alcohol. These rules are not always followed. Some retailers pay cash, while others spread video poker that is not legal under Georgia law. The oversight of these games is not adequate for the number of devices on the market. That contributes to the problem.
Georgia Video Poker Battle
South Carolina banned video poker in 1999. Many of these machines moved west into Georgia at that time. The games operated in a gray area of the law. These games could pay prizes like gift cards and merchandise but not cash.
Many operators violated the rules. Operators often opened neighboring video poker parlors in the same shopping center. Players that won gift cards at one were instructed to exchange the card for cash at the neighboring business. This loophole seemed to satisfy Georgia's law on not paying cash to winners.
No taxes were paid on the devices beyond an amusement machine license. The lack of revenue and control created a problem Governor Roy Barnes felt needed to be addressed.
The Georgia Legislature made video poker illegal during a 2002 special session. A lower court deemed the law unconstitutional. The Georgia Supreme Court overturned the ruling. While video poker is considered to be illegal under Georgia law, the devices are still found throughout the state in back rooms of bars and convenience stores.
Casino Debate in Georgia
The debate over casinos heated up in 2015. MGM Grand, Boyd Gaming, Wynn Resorts and Las Vegas Sands all set their sights on Georgia as a potential gaming market. Casino gaming would require the state legislature to pass a constitutional amendment by a two-thirds majority, as well as it passing a statewide referendum in 2016.
The conservative nature of Georgia voters makes the path to legalized casinos in Georgia difficult. The decline in revenue generated by the Georgia Lottery may encourage some lawmakers and voters to back legalized gambling.
There are no Indian reservations in Georgia. This is one reason that there are no casinos in the state. Residents looking to gamble must take a casino boat into the ocean, visit Mississippi or Florida, or take a trip to one of two Cherokee casinos in North Carolina.
Legalized online gambling in Georgia
The Georgia Lottery is one of the few in the U.S. that offers legal online gambling. Players may purchase lotto drawing tickets over the Internet. There are also instant tickets, similar to a slot machine pull, sold on the Georgia Lottery website.
These games were not specifically approved by the state legislature. The Georgia Lottery already has the power to spread any games it sees fits. While the lottery may have the power to open casinos, it has declined to expand into that business without direct legislation explicitly legalizing it.
In the opinion of the Attorney General of Georgia, dated February 26, 2016, daily fantasy sports constitutes illegal gambling under state law. The opinion had an immediate impact on Sen. Renee Unterman's Senate Bill 352, a daily fantasy sports regulatory proposal that abruptly lost momentum and fell to the bottom of the Senate calendar.
There are dozens of offshore sites that offer online poker, casino games and sports betting to Georgians. None of these companies are licensed to operate in the state. Players should exercise extreme caution with these sites.
Online gaming works — it's been licensed in Europe for years, and in the US it's already licensed in New Jersey, Nevada, and in Delaware. If you are a resident of the fine state of Georgia, don't just sit there — make your voice heard.