Hawaii Gambling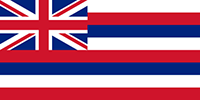 Hawaii is one of just two states that have no forms of legalized gambling. Utah is the other one.
It isn't that Hawaii is opposed to gambling. Las Vegas is the number one tourist destination for Hawaiians. Boyd Gaming built its business through attracting Hawaii residents to its downtown Las Vegas casinos.
The real reason behind a lack of gambling is that there is fear that it would damage the state's tourism industry, the island state's largest money maker. Companies that rely on tourism dollars are not inclined to support legalized gambling that could potentially cut into those profits.
Attempts to Legalize Online Gambling
Hawaii was the first state to attempt the legalization of online gambling. It all started in 2008 when state lawmakers submitted a bill to legalize poker and games of chance over the Internet. It failed to receive a committee hearing that year. It returned every year through 2014. It suffered the same fate each time, failing to capture any attention.
There was no attempt to introduce an online gaming bill in 2015. It appears that the issue is dead in Hawaii in the foreseeable future.
Daily Fantasy Sports
In January 2016, the Attorney General for Hawaii, Doug Chin, concluded that daily fantasy sports (DFS) contests constitute illegal gambling under existing state laws.
No Specific Law Making Online Gambling Illegal
While there have been attempts to regulate online gambling, no current law specifically prohibits it. There are more than 100 offshore sites that accept players from Hawaii. None of these online poker, casino or sports betting sites are licensed. The prevailing opinion is that these companies are not legal.
Players should deposit at these sites at their own risk. There is little or no recourse if a dispute arises from this action.
Online gaming works — it's been licensed in Europe for years, and in the US it's already licensed in New Jersey, Nevada, and in Delaware. If you are a resident of the fine state of Hawaii, don't just sit there — make your voice heard.