South Dakota Gambling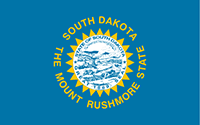 South Dakota is a conservative state with a long history of gambling. It all started during the gold rush in the late 1800's. Prospectors settled in Deadwood and Lead to mine for gold in the Black Hills. Deadwood became a seedy town known for its outlaws. Saloons throughout town spread poker and other games during the boom.
Deadwood's "Wild Bill" Hickok's legacy helped make poker what it is today. He was killed at a poker table at Saloon No. 10 on August 2, 1876. He held the hand that is still referred to as the "Dead Man Hand" generations later. That poker hand is two pair. One is black aces and the other is black eights. The kicker held is debatable but locals tend to agree that it was the nine of diamonds.
Back room gambling continued well into the 1900's. A federal raid in 1981 put an end to most of that. A movement started to legalize gambling in Deadwood in the late 1980's. Such a thing was unheard of at the time as casinos were only legal in Nevada and Atlantic City. Locals finally won their lobby and voters approved legalized gambling in Deadwood. It launched on December 1, 1989.
Casinos were only permitted to offer games with a $5 max bet. Slots, video poker, blackjack and poker tables were among the approved games. The only exception to the bet limit was poker tournaments. In addition to a higher permitted buy-in, poker tournaments could also be spread in a no limit format.
The maximum wager went up to $100 in 2000 and $1,000 in 2013. Craps and roulette were added as approved games through a statewide referendum in 2015. In addition to Deadwood, casinos are permitted on reservations throughout the state.
North Dakota licenses Bet America which accepts legal online wagers for horse racing, dog racing and fantasy sports. This is legal for residents of this state (please read their terms and conditions to ensure this has not changed).

South Dakota Lottery
While gambling is more than a century old in Deadwood, the state lottery was the first form of gaming to become legal. Voters approved the South Dakota Lottery on November 4, 1986. The first scratch off ticket was sold on September 30, 1987. Lotto drawings went live in 1992. The most controversial form of gambling became legal in 1989. That is when video lottery was approved by the South Dakota Legislature. These games are terminals that resemble video poker machines. Slots, video poker, keno, bingo and blackjack are all offered on these games.
Payouts range from 80% to 92%. The state receives half of the money won by the machines. These games are located in establishments that sell alcohol by the drink.
There have been four attempts to repeal the South Dakota Video Lottery. Voters rejected its repeal in 1992. The South Dakota Supreme Court ruled the games unconstitutional in 1994. A constitutional amendment was created during the next legislative session that overrode that ruling. Statewide referendums in 2000 and 2006 rejected attempts to repeal that constitutional amendment.
Online gambling in South Dakota
There are no laws that govern playing at online gambling sites. There are laws against operating one without a license. There are no licensed online poker rooms or casinos in South Dakota.
Live horse racing is legal, as is off-track betting. This includes betting on horses over the Internet or on mobile devices. Licensed companies like TVG are permitted to spread off-track betting through electronic means directly to consumers.
Fantasy sports sites like DraftKings and FanDuel are also legal in South Dakota. The South Dakota Commission on Gaming held a hearing in November 2015 to discuss whether the industry should be regulated. Regulators drew the conclusion that they did not have that power. The state's attorney general determined that no criminal charges would be pursued against daily fantasy sports companies in December 2015. A civil action is still under consideration.