Vermont Gambling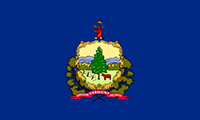 Vermont has a very limited amount of gambling. Bingo and the state lottery are the only legal forms. Players looking for racing will need to go to Massachusetts or New York. The closest casino is near Niagara Falls.
Vermont voters approved a state lottery in 1976. The first ticket was sold on Valentine's Day in 1976. The Vermont Lottery offers scratch-off tickets and lotto drawings.
The lotto drawings include games specific to Vermont, as well as interstate pools. Players may buy lotto tickets to Pick 3, Pick 4, Powerball, Mega Millions, Megabucks, Gimme 5 and Lucky for Life.
Subscriptions may be purchased at lottery retailers. Tickets may be bought in packs of 13, 26 and 52 weeks.
There are interactive lottery ticket terminals in Vermont. These somewhat mimic slot machines but offer far worse odds. The games are known as Fast Play and Touch Play. The devices may be found in gas stations, bars and bowling alleys throughout the state.
North Dakota licenses Bet America which accepts legal online wagers for horse racing, dog racing and fantasy sports. This is legal for residents of this state (please read their terms and conditions to ensure this has not changed).

Vermont Charity Gaming
Registered charities may offer a few games of chance. These include bingo and raffles where the proceeds go directly to the nonprofit organization.
Vermont Daily Fantasy Sports
In January 2016, Vermont's attorney general declared daily fantasy sports to be illegal gambling. Before this, DFS was perceived to be legal in Vermont in the belief that the contests fell under the state's skill gaming laws. There is currently an active DFS bill moving forward in Vermont.
There are more than 100 offshore websites that accept bets from Vermont players. Games include poker, blackjack, craps, roulette, slots, video poker, keno and dozens of table games that use cards.
These sites are not licensed to operate in Vermont and are presumably illegal. Players should understand the risks in depositing at sites that take bets from Vermont residents as there is no recourse if a dispute arises.