New Jersey Gambling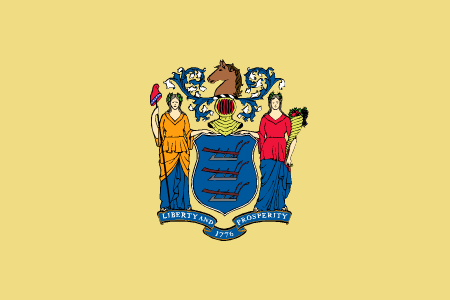 New Jersey had the chance to become the first state to legalize and regulate online poker games. State Senator Raymond Lesniak pushed the New Jersey Legislature to pass an online poker bill in 2011. It passed the state's assembly and senate in a landslide. Tax revenue would have gone to the state's ailing horse racing industry. Atlantic City casinos would have hosted the servers.
The bill was vetoed by Governor Chris Christie in March 2011. Christie did not agree with the legal opinion that storing the servers in Atlantic City would satisfy the state constitutional requirement that all gambling outside of the lottery and horse racing must be in Atlantic City. Christie called this opinion "legal fiction" at the time.
Lesniak pushed for online gambling again in 2012. The New Jersey Legislature passed a comprehensive bill that would have legalized online poker and casino games in December of that year. Christie did not approve of everything the legislature wanted. Christie conditionally vetoed the bill on February 2, 2013.
Christie made two demands. He wanted the tax rate to be 15 percent, as opposed to the 10 percent proposed by lawmakers. Christie also wanted more funds to go towards problem gambling. New Jersey Assembly and Senate members agreed to these changes. Christie signed the bill into law the same day.
Race to launch
New Jersey was nearly two months behind Nevada in the race to become the first state to launch regulated online gambling in the country. The New Jersey Division of Gaming Enforcement fast tracked licensing. Potential operators filed applications for a license within weeks of Christie signing the bill into law. By July, companies began to receive transactional waivers. This was equivalent to a temporary license.
Caesars, Borgata, Trump Plaza, Trump Taj Mahal, Resorts, Golden Nugget and Tropicana all received transactional waivers with permanent licenses coming later. All software companies that applied for a an interactive gaming license, including Amaya, Betfair, 888, Gamesys, Ultimate Gaming and bwin.party, received approval with one exception.
PokerStars, which was partnered with Resorts, was unable to gain approval for an interactive gaming license by the New Jersey Division of Gaming Enforcement. This was due to the unresolved legal issues involving Black Friday surrounding PokerStars and its executives. Black Friday was April 15, 2011. That was the date that the U.S. Department of Justice unsealed an indictment against PokerStars, Full Tilt Poker and Absolute Poker. Several payment processors were also involved.
New Jersey Internet gaming goes live
Online gaming launched in New Jersey on November 21, 2013. This was the start of a five-day test period. Most sites were approved to fully launch before the five-day trial. Golden Nugget was the only site with a transactional waiver that was unable to go live with its competitors. It opened three weeks later.
There were five poker sites when internet gaming opened in New Jersey. Borgata and Partypoker shared a platform. 888 and WSOP.com used the same software but had separate player pools. Ultimate Poker and Betfair also operated as standalone sites.
Golden Nugget planned to join Betfair. Golden Nugget never launched real money online poker in New Jersey. Its play money site went dark on September 30, 2015.
Five poker networks were too many for the New Jersey market. Ultimate Poker was the first casualty. It closed in October 2014. Ultimate Poker blamed the bankruptcy of Trump Taj Mahal, its Atlantic City partner, for closing its New Jersey sites. Ultimate Poker never had more than a three percent market share.
Betfair was the next site to close. It shuttered on December 1, 2014. Betfair had virtually no players for most of its existence. 888 and WSOP.com decided to merge player pools in January 2015. Both sites already used the same software, support, gaming license and payment processors. This made the transition seamless.
The WSOP.com/888 network and Borgata/Partypoker were the only two poker platforms that still operated in New Jersey until PokerStars was approved on September 30, 2015 by New Jersey regulators and launched in March 2016.
New Jersey Regulated Online Casinos
There are five casino groups in New Jersey that are licensed to operate online gaming sites. Each spreads at least two separate brands. State law permits up to five domains associated with each interactive gaming license.
Borgata – Borgatapoker.com and Borgatacasino.com operate under Atlantic City's largest casino's license. NJ.Partypoker.com and Palacasino.com partnered with Borgata. Partypoker also supplies the poker software used by Borgata. The two sites share player pools.
Caesars Interactive Entertainment – The New Jersey Caesars Interactive license operates under Bally's and Caesars. WSOP.com and 888poker.com share player pools on the licensee's poker network. Casino sites are 888.com, Harrahscasino.com and Caesarscasino.com.
Golden Nugget – Golden Nugget and Betfair operate under the same license. The casinos are found at Goldenuggetcasino.com and Betfaircasino.com. Resorts – Two online casinos operate under the Resorts license. One is Resortscasino.com. The other is Mohegansuncasino.com, which is related to the management company of Resorts. PokerStars and Full Tilt will operate under this license in late 2015 or early 2016.
Tropicana – Tropicana and Gamesys partnered in New Jersey. The two companies operate Tropicanacasino.com and Virgincasino.com together.
How to deposit to a New Jersey gaming site
New Jersey interactive gaming law requires all Atlantic City casinos to offer cash deposits for sites that operate under its license. For example, players can deposit at Tropicana for Virgin Casino. All sites also accept Visa, Mastercard and electronic checks. There are some issues with credit and debit cards. Some banks are unwilling to process these transactions. Credit card deposits that are approved are considered cash advances and generate additional fees for the player.
Neteller and Skrill are offered by most New Jersey sites. These ewallets operate independently from the ones that process payments in Europe. PayNearMe is accepted by casinos under the Borgata and Caesars licenses. PayPal is also accepted by sites in the Caesars Interactive family.
Click here now to play at Borgata Casino
Click here now to play at Caesars Casino
Click here now to play at Harrahs Casino
Click here now to play at Tropicana Casino
Click here now to play at Virgin Casino
How to withdraw from New Jersey sites
New Jersey law requires Atlantic City casinos to offer cash withdrawals for sites that operate under their license. In addition to cash, all sites process withdrawals by electronic funds transfer and checks. Players that deposit by PayPal, Neteller and Skrill may withdraw through one of those methods.
New Jerseyans Love a Good Gamble.
Heck, If you have ever driven a car on any of our highways you know that already!
New Jersey boasts the oldest racetrack in the United States, Freehold raceway, which has been in operation since the 1830's and is still running as of this writing. In 1976 New Jersey voters approved a measure legalizing casino gambling becoming only the second State in the Union (after Nevada) to regulate this popular pastime.
The struggle to provide on line gambling has pitted State legislators against the Federal Goverment and that struggle continues. For New Jersey the road to legalized, State regulated on line gambling began in January of 2011 when State Senator Raymond Lesniak (D-NJ) sponsored a bill to allow persons inside the State border to place wagers electronically with casino establishments based in Atlantic City. The bill passed the State Legislature but was vetoed by Governor Chris Christie (R-NJ) who cited concerns that, "allowing customers to bet through any computer terminal left open the chance of commercial businesses such as nightclubs and cafes becoming gambling hubs around the state," and that "the bill further created a legal fiction that a bet placed anywhere in New Jersey counted as an Atlantic City bet." In late February of 2013 a new bill, adressing Governor Christies concerns, was overwhelming approved by the New Jersey Legislature and after a few minor adjustments relating to the amount of State tax levied on the operators and ensuring stringent policies aimed at problem gamblers the bill was signed into law by Governor Christie.
In late November of 2013, New Jersey casinos went live on line and for the first time in the Nations history full, regulated gambling was available to anyone over the age of 21 inside the State borders with an internet connection provided the player has no bad legal casino history. Player location is verified by several methods including GPS and wi-fi triangulation as well as IP adress information. Once these conditions are satisfied the player is able to access the full casino experience including slot games, table games and poker. Bingo is beginning to become available now also. There are various promotions and loyalty reward systems in place to compliment the player experience.
New Jersey currently features seventeen online casino portals operated by six Atlantic City based casinos. All casino operations are overseen by The New Jersey Division of Gambling Enforcement (NJDGE).
The available sites are as follows:
BORGATA HOTEL CASINO & SPA
www.Borgatacasino.com
www.Borgatapoker.com
www.NJ.Partypoker.com
www.palacasino.com
CAESARS INTERACTIVE ENTERTAINMENT
NEW JERSEY – AFFILIATE OF BALLY'S PARK PLACE
www.HarrahsCasino.com
www.WSOP.com
us.888.com
us.888poker.com
us.888casino.com
CAESARS INTERACTIVE ENTERTAINMENT
NEW JERSEY – AFFILIATE OF BOARDWALK REGENCY CORPORATION
www.CaesarsCasino.com
GOLDEN NUGGET ATLANTIC CITY
www.GoldenNuggetCasino.com
nj-casino.goldennuggetcasino.com
www.betfaircasino.com
RESORTS CASINO HOTEL
www.resortscasino.com
www.mohegansuncasino.com
TROPICANA CASINO AND RESORT
www.tropicanacasino.com
www.virgincasino.com
New Jersey law provides opportunities for affiliates and other "ancillary" services to benefit from this exciting new market. While all these sites are State certified safe to play at their services and rewards vary greatly and affiliates will be valuable to highlight those differences and possibly provide players a more direct route to casino management when a player needs help with a potetial issue.
It was a quite a struggle to get the on line gambling ball rolling but there are now seven States which either allow or have bills pending to allow on line gambling and look to New Jersey to lead the way forward!
Latest News
Related Casinos