Arizona Gambling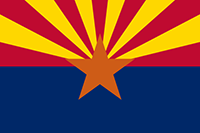 Arizona – a pretty arid zone of a place to gamble online.
Arizona may not be a state people think of when discussing legalized gambling. The state offers 19 different casinos. Many are resort-casinos that are comparable to establishments in better known gaming jurisdictions.
Arizona Casinos
All casinos in Arizona are on Native American reservations. The state refused to negotiate gaming pacts with tribes after the Indian Gaming Regulatory Act went into effect in 1988.
After attempts to permit gambling on reservations failed, tribes decided to spread them anyway. This action forced Arizona into a corner and by 1992 gaming compacts began. By 1994, there were 16 compacts. That number is now 24.
Native American casinos in Arizona are restricted in the games that may be spread. Video poker, slots, poker and house-banked card games are allowed. Blackjack, baccarat, Three Card Poker and Pai Gow Poker are among the permissible games. Craps and roulette are not legal in Arizona.
There are bet limits in Arizona. The highest slot and video poker bet is $25. This means that the highest video poker denomination available is $5. House-banked games like baccarat and blackjack may accept action up to $1,000.
Arizona Poker Rules
Arizona poker rooms are only permitted in tribal casinos. The max bet is $500. This means that No Limit Texas Hold'em cash games are illegal. These tables will be advertised with the big blind and the max bet. For example, a game referred to as 5-500 has a $5 big blind and a $500 max bet. This is referred to as spread limit. No Limit Texas Hold'em is permitted in tournaments. The buy-ins for these events may exceed $500.
These limits are lower than most states with legalized gambling. On the other hand, the maximum allowable bet was increased from $500 at tables and $150 at poker in 2009.
Arizona Bingo
Bingo is permitted at licensed charities and on reservations. The games must mimic traditional bingo. Video versions are not permitted, although automatic daubing is allowed.
Arizona Horse Racing
There are five racetracks in Arizona. Greyhound and horses are permitted to race with affiliated pari-mutuel betting. Off-track betting is offered at these tracks. Bars and restaurants also act as off-track betting offices.
Arizona Online Gambling
Arizona legalized online and mobile betting on horses in 2014. This reversed a change in policy enacted in the 2000's which banned the activity for nearly a decade.
Legal online horseracing went live once again in January 2015. TVG and Twinspires are among the companies that accept Arizona bettors.
Arizona is one of just a handful of states were daily fantasy sports is illegal. It is not because the contests are specifically banned under Arizona law. The issue is with how the gambling law is worded. Skill must be the predominate factor for a game to be legal in Arizona, something legal analysts have debated. It also specifically outlaws wagering on any sport or contest where the bettor is not a participant. A new bill (SB 1515) has been introduced which aims to exempt "fantasy sports league competitions". Watch this space for the latest DFS developments in Arizona!
There was previous attempt to legalize fantasy sports in Arizona in 2014 when a bill was passed but Governor Jan Brewer did not sign it into law. It was opposed by tribal gaming interests.
There are online poker, casino and sports betting sites that accept Arizona players. None are licensed to spread these games in the state. Depositing and withdrawing is especially tricky at these sites from Arizona due to cash transfer policies enacted to stop the flow of money to Central America.
Online gaming works — it's been licensed in Europe for years, and in the US it's already licensed in New Jersey, Nevada, and in Delaware. If you are a resident of the fine state of Arizona, don't just sit there — make your voice heard.