Pennsylvania Gambling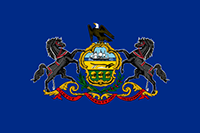 Pennsylvania is relatively new to the gaming industry. The state's first casino opened in November 2006, and the only legal games at the time were slots and video poker. It took until July 2010 for Pennsylvania to permit table games and poker. Many Pennsylvania casinos are located at racetracks and are essentially gambling halls. A few are more resort oriented.
The gaming industry in Pennsylvania exploded once table games were added to slots. Pennsylvania overtook New Jersey as the second highest volume gaming state in 2012. Legal commercial casinos in Pennsylvania are a contributing factor to the contraction of Atlantic City. Four casinos shuttered in 2014 due to the massive decline of gaming revenue in Atlantic City.
There are two other forms of legalized gambling in Pennsylvania. The state lottery was approved in August 1971. The first lottery ticket in Pennsylvania was sold on March 7, 1972. The horseracing industry dates back to 1830. The decline of horseracing in the late 90's and early 2000's was a motivating factor in Pennsylvania legalizing casinos. A portion of these funds go towards the tracks and most operate racinos on the property.
North Dakota licenses Bet America which accepts legal online wagers for horse racing, dog racing and fantasy sports. This is legal for residents of this state (please read their terms and conditions to ensure this has not changed).

Pennsylvania online gaming legislation
Pennsylvania lawmakers have been trying to legalize online gaming since 2013. It all started with Rep. Tina Davis. Her bill would have legalized online poker and casino games in Pennsylvania. Any game available in the state's casinos would have been available at regulated gaming sites. The tax rate would have been 28%. That is half the rate live casinos are taxed on slots in Pennsylvania. It is nearly double the rate of table games and poker.
There would have also been a $5 million licensing fee. The state's casino companies would have been the only ones that could receive a license. Casinos would have been permitted to bring in outside software providers.
Players would have been required to be Pennsylvania residents currently within the state's borders at the time of play. The minimum age was 21. Only licensed casinos would have been permitted to spread the games. Partnerships with software providers would have been permitted.
That bill failed to receive a committee hearing in 2013. It was reintroduced in 2014 and it also failed to gain any traction.
The budget situation became dire in Pennsylvania in 2014. Online gaming became an attractive way to raise tax revenue without raising taxes. Four bills related to the legalization of online gaming were introduced during the 2015 legislative session. All four are similar in nature and comparable to the one Rep. Davis filed in 2013 and 2014. The only difference is that any player 21 or older located in Pennsylvania can play under these proposals, as opposed to only those with an address in the state. Other differences between the bills mostly pertain to tax rates and licensing fees.
There is plenty of buzz about online gaming in 2015. Rep. John Payne held an informational committee hearing in June 2015 to discuss the topic with experts and other lawmakers. A second hearing is scheduled for late 2015.
Online poker and casino games are not the only forms of internet gaming that the Pennsylvania Legislature may address. The sale of lottery tickets over the Internet and daily fantasy sports are other topics that may become regulated in Pennsylvania. One proposal by state Rep. George Dunbar would only permit daily fantasy sports operations under existing gaming licenses issued to casinos. That bill would ban DraftKings and FanDuel from Pennsylvania.
Pennsylvania is the favorite to become the fourth state to legalize and regulate online gaming. The discussion has advanced much farther in Pennsylvania than anywhere else that has not already passed legislation. Look for Pennsylvania to pass a bill in 2016 that expands gaming rights to raise tax revenue. The odds are that such a measure includes the legalization of online gambling.
Online gaming works — it's been licensed in Europe for years, and in the US it's already licensed in New Jersey, Nevada, and in Delaware. If you are a resident of the fine state of Pennsylvania, don't just sit there — make your voice heard.