Maryland Gambling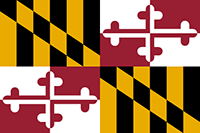 Maryland is home to a recent expansion of gambling. The state was fed up with its residents going to Delaware, New Jersey, Pennsylvania and West Virginia for casinos. Maryland decided to get in on the action.
Maryland Casinos
Maryland video lottery casinos opened in 2010. These originally operated at racetracks. The only available games were slots and video poker. Maryland voters approved casinos on November 6, 2012.
The existing video lottery casinos launched table games and live poker rooms 60 days after the vote. Destination casinos such as Maryland Live!, MGM National Harbor and Horseshoe held grand openings in 2014.
Maryland Horse Racing
Horseracing was the first form of legalized gambling in Maryland. There are five racetracks in Maryland:
Laurel Park in Laurel
Pimlico in Baltimore
Timonium in State Fair
Ocean Downs in Wilmington
Rosecroft in Fort Washington
These five racetracks offer bets on live and simulcast racing. Bets over the phone and the Internet are also accepted. Racetracks may offer casino games if approved by local voters through a referendum.
Maryland Lottery
The Maryland Lottery offers one of the widest selections of games in the country. The typical scratch-off and lotto tickets are sold. This includes Powerball and Mega Millions. There are also many intrastate lotto drawings held daily. Players can buy subscriptions to these drawings by the quarter or year.
Keno is available. A new drawing is held every four minutes. Players can purchase keno tickets for up to 100 games at a time. There is also a simulated horseracing game known as Racetrax. These virtual races are held every five minutes. Subscriptions to all lottery drawings may be made at a retailer, by credit card over the phone, or by mailing a check to the state.
Maryland Bingo
Registered charities in Maryland are permitted to offer bingo for real money. Auto-daubing is allowed. Electronic bingo is not. Bingo is not spread at the state's casinos.
Maryland Online Gambling
Maryland offers one form of legal online gambling. One is off-track betting through mobile apps and over the Internet. The state's racetracks work in partnership with software providers to offer this service.
In January 2016, Attorney General Brian E. Frosh advised the Legislature that day-betting on fantasy sports is not authorised in Maryland under existing state law. Maryland adopted the fantasy sports exemption in the Unlawful Internet Gambling Enforcement Act. This carved out most forms of season-long fantasy sports.
Online Gambling Busts Originating in Maryland
Maryland has been the venue for legal action pertaining to online gambling. In May 2011, the Maryland U.S. Attorney's Office brought an action against Bookmaker, BetEd and some related poker sites. That same indictment brought down the U.S. ewallet known as UseMyWallet. It was the last of its kind in operation in the country. This bust was possible because the feds created a bogus payment processor known as Linwood Payment Solutions. Domain names and assets related to these companies were seized. BetEd failed, but the other sites acquired new domain names and continued to operate as if nothing happened.
In February 2012, the same U.S. Attorney's Office in Maryland indicted Bodog and its founder, Calvin Ayre. Two other Bodog officers were also indicted. The Bodog.com domain, recently abandoned before the indictments, was seized in the action.
Bodog players in the U.S. were already moved to Bovada.lv. Players in other countries were moved to Bodog.eu. All of the indicted individuals are still at-large. Calvin Ayre was on the U.S. Immigration and Customs Enforcement's Top 10 Most Wanted List for more than a year. He dropped off of it in 2015 even though he was never located.
It seems there is little movement to legalize online gambling in Maryland. The enforcement actions have generated revenue for local police departments. Former Maryland Governor Martin O'Malley, a 2015 Democratic presidential hopeful, spoke out against online gambling when he was in office. O'Malley asserted that online gambling would hurt the state lottery's proceeds.
Most offshore gambling sites avoid Maryland. This is due to the actions of the U.S. Attorney's Office in the state. Most of the sites that continue to operate in Maryland are taking a risk most competitors are not comfortable with. Payment processing is also challenging in Maryland for the same reason. Maryland players will find it very difficult to deposit and withdraw at offshore sites.
Online gaming works — it's been licensed in Europe for years, and in the US it's already licensed in New Jersey, Nevada, and in Delaware. If you are a resident of the fine state of Maryland, don't just sit there — make your voice heard.