Missouri Gambling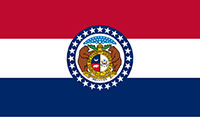 The "Show Me" state.
Missouri is a state known for being conservative, but it also hosts casinos in most major cities. Casinos are not the only form of legalized gambling in the state. There is also a lottery.
Online gambling does not seem to be a welcome advancement of one of the state's largest industries. Missouri is known as a state involved in online gambling legal disputes. Its attorney general is the originator of a petition among his peers that supports the Restoration of America's Wire Act, a bill that would prohibit states from legalizing and regulating online gambling. This would improve the stronghold offshore sites hold in the U.S. market.
Missouri Casinos
Missouri is known for its riverboat casinos. These were legalized in 1992 through a statewide referendum. Most games permitted in Nevada are spread in Missouri. This includes slots, video poker, blackjack, craps, roulette, live poker rooms, Three Card Poker, Ultimate Texas Hold'em, baccarat and Pai Gow Poker.
There are 13 licensed casinos in the state. All are located on either the Missouri or Mississippi Rivers. During the first eight years of gaming operations in Missouri, boats were required to theoretically leave the dock once every two hours. This often meant nothing more than the doors being locked to prevent guests from coming or going. A change in law in 2000 did away with this policy. When that went into effect, patrons were permitted to come and go as they wished.
There was a practice that was left over from the days of leaving the dock. Missouri kept its loss limit from the old days. A player was not permitted to lose more than $500 during a set two-hour period. A day started at midnight and every two hours the clock would reset on the gambler's losses. This caused many odd situations in Missouri casinos.
Poker players had to manage bankrolls properly to accommodate the odd loss limit requirement. Patrons in the poker room that were serious about the action could not cash in chips as one would normally do. The loss limit only applied to the amount of chips that could be sold at the table. Poker players could rat-hole chips from previous sessions and introduce them to the game once the $500 loss limit was achieved. Table game players could do the same thing.
A black market was created by chip hoarders. Casino chip sellers would solicit players in casino common areas and in the restrooms. Some charged a markup for converting cash into chips in violation of Missouri law. Players that reached the $500 maximum cash buy-in per theoretical cruise would be refused access to the casino floor.
The situation was universally hated by players and casino employees. Missouri was the last state with such a policy. A statewide ballot initiative sought to do away with the $500 casino loss limit every two hours. It passed in November 2008. Loss limits have since been eliminated in Missouri.
Missouri Lottery
Missouri voters approved a constitutional amendment to create a state lottery in 1985. It was the first form of legalized gambling in the state. The Missouri Lottery sells scratch-offs, lotto tickets and pull tabs. There is also a keno game that draws new numbers every four minutes most hours of the day. Keno tickets are most often sold in bars and bowling alleys.
Missouri Online Gambling
The only form of online gambling that may be legal is daily fantasy sports. DraftKings and FanDuel operate in Missouri, but may be doing so at their own risk. The state's attorney general is currently investigating the activity to determine whether it violates state law. There is a bill (SB 1131) pending that would give daily fantasy sports an exemption under Missouri's gambling laws.
Missouri has a history of being involved in actions that oppose online gambling. The U.S. Attorney's Office in the Eastern District of Missouri is where the indictment against BetOnSports originated. This involved the arrest of BetOnSports CEO David Carruthers.
Missouri Attorney General Chris Koster is the source of a letter circulating among state attorneys general that supports the federal bill known as Restoration of America's Wire Act (RAWA). The bill would roll back licensed online gambling, opening the door for illegal offshore sites. It is an odd bill for anyone in law enforcement to support as the only goal of RAWA is to force states out of the online gaming market. This is a dream for companies hoping to operate on a black market without competition.
Missouri online poker, casino and sports players should understand that any site currently accepting players from the state is not licensed. Deposits are not insured or guaranteed. While many sites are legitimate, the risk is something players should consider.
Missouri Bingo
Missouri law permits charities to offer bingo through manual and auto-daubing, but not other electronic means. The same law also allows charitable raffles.
Online gaming works — it's been licensed in Europe for years, and it's been licensed in New Jersey, Nevada, and in Delaware. If you are a resident of Missouri, don't just sit there — make your voice heard.