Illinois Gambling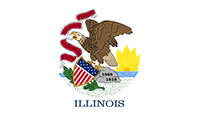 Illinois is a state that is extremely friendly to gambling. There are many forms that players may choose without having to leave the state. This includes two forms of online gaming.
Illinois Horse Racing
Horseracing is the oldest form of gambling in Illinois. There are six racetracks in the state. Bets may be placed on live races, as well as on simulcast events in the race book. Phone wagers and bets online are also accepted on horse races. Slot machines and video poker are now permitted at some racetracks.
Illinois Lottery
The Illinois Lottery sold its first ticket in 1974. It has since expanded from scratch-off tickets to a full menu of games, including lottos.
The Illinois Lottery ran into substantial problems paying players in 2015. A budget impasse in the state legislature made it impossible to pay winners higher than $25,000 during the summer due to the inability for the state's comptroller to cut checks. In the fall of 2015, that number fell to $600. Amounts lower than $600 may be paid by lottery retailers as this payout does not trigger a taxable event.
Illinois Online Gambling
There are two forms of online gambling in Illinois. Bettors can take action on horses and the state lottery over the internet. Horseracing is offered through sites like TVG and TwinSpires, as well as through the websites of the state's racetracks.
The Illinois Lottery sells lotto drawing tickets over the Internet. It did this after an opinion written by the U.S. Department of Justice in September 2011. That memorandum declared that only interstate sports betting was illegal under the Wire Act of 1961. That law does not apply to other forms of interstate online betting, including Illinois' lottery. The opinion also carved out online poker and casino games.
This opinion opened the door for interstate online poker and has since become the subject of an effort led by Sheldon Adelson to make online gambling unlawful. The bill looking to reverse this opinion is known as the "Restoration of America's Wire Act." There is virtually no interest in this bill within Congress.
North Dakota licenses Bet America which accepts legal online wagers for horse racing, dog racing and fantasy sports. This is legal for residents of this state (please read their terms and conditions to ensure this has not changed).

Illinois Casinos
There are 10 riverboat casinos in Illinois. These all offer the same casino games available in Las Vegas. This includes slots, video poker, blackjack, craps, roulette and house-banked poker games. Live poker rooms are also legal at Illinois riverboat casinos. There are no bet limits in the state at any game.
There are hopes of further expansion of casino gambling into Chicago, including its airports, in an attempt to raise tax revenues. These efforts stalled in the state legislature.
Illinois Video Lottery
Illinois legalized slots and video poker in bars in 2012. The games rolled out within a year and are now available in taverns, restaurants and video gaming parlors throughout the state. These games have hurt Illinois casino revenues since the launch. Residents also complain about the proliferation of gambling into neighborhoods within the state. The same law permits slots and video poker at the state's racetracks.
Illinois Bingo
Charities are permitted to offer bingo at their establishments. This includes auto-daubing. Online bingo is not legal.
Illinois Daily Fantasy Sports Battle
Illinois Attorney General Lisa Magadan declared that daily fantasy sports are illegal in Illinois in December 2015. Illinois Representative Michael Zalewski launched an intrastate daily fantasy sports bill in April 2017 which challenged this opinion.
Illinois Online Gambling Sites
There are many online poker, casino and sports betting sites that accept Illinois players. There is a state law that specifically makes this illegal. No players or sites have ever been convicted of this crime. While that is the case, players should understand the risks involved in giving action to these unlicensed, offshore sites. There is no recourse if one of these sites refuses to payout or offers an unfair game.
Online gaming works — it's been licensed in Europe for years, and in the US it's already licensed in New Jersey, Nevada, and in Delaware. If you are a resident of the fine state of Illinois, don't just sit there — make your voice heard.