Iowa Gambling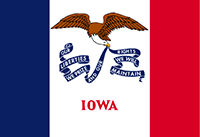 Iowa has always been a progressive state in terms of gambling. The state lottery was legalized in April 1985, and it only took four months to get the games live. Horseracing dates back to 1902 when the first event was held in Davenport. Gambling on horse races operated under the table until 1983 when it was fully legalized. Horseracing expanded to simulcast betting in 1989.
The same bill that legalized simulated wagering on horseracing also set up regulatory framework for casino gaming in Iowa. The state became the fourth in the country to legalize casino gambling. It was the first state to legalize riverboat casinos. It was the third to permit a full spread of games as South Dakota had a $5 maximum bet at the time and excluded roulette and craps. Iowa casinos were full service riverboats. The casinos technically left the dock for two hours and returned. The loss limit during the two hour tour was $500. Tribal gaming was also permitted in Iowa.
The loss limit and undocking requirement dropped in 2002. This was the same year that racetracks were permitted to offer slots and video poker. Local referendums are required to legalize casinos and racinos in a county. All but one county has permitted casinos. Iowa voters have twice voted to keep casino gambling legal in the state. It passed by a 74-26 margin the first time and 79-21 the second time.
North Dakota licenses Bet America which accepts legal online wagers for horse racing, dog racing and fantasy sports. This is legal for residents of this state (please read their terms and conditions to ensure this has not changed).

Online gaming appealing to progressive Iowa
The spread of casino gaming in Iowa makes online gaming a clear next step. The Iowa Gaming Commission is experienced in regulated the state's industry. Caesars Entertainment and Boyd Gaming, both experienced gaming companies with internet gambling partners lined up, operate in Iowa. This helped create an environment where legislation advanced farther in Iowa than in most other states.
In March 2011, a bill that would have legalized some forms of online gaming made it out of subcommittee but quickly died. In March 2012, the bill known as Senate File 2257 not only advanced out of the Senate State Government Committee, it passed the full Iowa Senate by a 29-20 margin.
The bill was unclear as to whether it permitted only online poker or if casino games would have been permitted as well. Players would have been required to be located in Iowa at the time of play. Geolocation devices that used cell phone triangulation would have been used to ensure that no out of state players were gaining access to Iowa sites.
Players would have been required to be 21 years of age or older. Software operators would have been forced to partner with bricks-and-mortar casinos in the state to offer games.
None of this mattered. The bill moved to the Iowa Assembly. It needed to pass there and get signed into law by the governor. House State Government Chairman Peter Cownie declared it dead immediately.
There has been an attempt every year after 2012 to bring back the discussion of legalizing online gambling in Iowa. No bill has made it out of a subcommittee since. It seems 2012 was the year with the best chance for legal Iowa online poker and casino games.
Online gaming works — it's been licensed in Europe for years, and in the US it's already licensed in New Jersey, Nevada, and in Delaware. If you are a resident of the fine state of Iowa, don't just sit there — make your voice heard.