Washington Gambling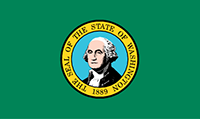 Washington state has several forms of legalized gambling. Pari-mutuel wagering on horse races began in 1872. It was shut down in 1909 before relaunching in 1972. It was expanded to off track betting in 1998. Betting on horse races expanded to the Internet in 2003.
The Washington Lottery became reality in 1982. Tribal bingo was permitted in 1983. The first reservation casino opened in 1993. These establishments were permitted to spread poker, table games, slots and video poker. Card clubs, where only poker and house-banked card games are legal, launched in 1997.
Off track horseracing is the only form of online gambling that is legal in Washington state. This is due to a law that passed the Washington Legislature and was signed into law in July 2006. This law made it illegal to make any wager over the Internet. It is a class C felony for a player to give real money action at any poker, casino or sports betting site while physically located in Washington state. The lone exemption from the law is off track horseracing.
The law was sponsored by state Senator Margarita Prentice. The goal was not to curb gambling. State Sen. Prentice represented the 11th District that is full of gaming establishments. The intent of the bill was to protect the state's bricks-and-mortar gaming industry.
State Sen. Prentice was not secretive about this protection. In a 2010 interview with ESPN, Prentice stated that she had "nothing against card playing." Prentice was asked how she felt about players opposed her law and how one poker star left the state because of it to play online poker elsewhere. Her response was "I'm not going to worry." She ended the statement with, "Let them pump gas." That quote has resonated with poker players ever since.
The law took four years to fight in the courts. The Poker Players Alliance argued that it was unconstitutional and that regulation of the Internet was the job of the federal government. An injunction was placed on the law. The Washington Supreme Court ruled that Washington state did have the right to outlaw online gambling in 2010.
PokerStars and Full Tilt Poker immediately left the state after the ruling. Most other companies remained until online poker's Black Friday. That was on April 15, 2011. Black Friday was the day that indictments against PokerStars, Full Tilt Poker and Absolute Poker were unsealed. Some U.S.-facing poker sites and casinos remained in the U.S. after Black Friday. A handful banned Washington players, citing legality and payment processing concerns.
The same law forbids the operation of online fantasy sports contests in Washington. That is why DraftKings and FanDuel do not operate in the state. There are DFS bills pending in Washington state.
Washington online poker bill
Curtis Woodard created the Washington iPoker Initiative in 2013. The goal of the organization is to repeal the law making it a felony to gamble online in the state. The first step of the goal was accomplished in 2015.
Woodard found a sponsor for his bill that would have legalized and regulated online poker in Washington state. The bill would have only permitted poker. Casinos games would not have been legalized but it would have repealed the felony prohibition on playing them. Players 18 years of age or older located in Washington state at the time could have gained access to approved sites.
Rep. Sherry Appleton filed the bill in the Washington Assembly. It was assigned the number HR 1114 in January 2015. It only took a few weeks to discover that there was no interest in repealing Washington's punitive online gambling law. It was declared dead in February 2015. This online poker bill failed again in February 2016.
Online gaming works — it's been licensed in Europe for years, and in the US it's already licensed in New Jersey, Nevada, and in Delaware. If you are a resident of the fine state of Washington, don't just sit there — make your voice heard.