Idaho Gambling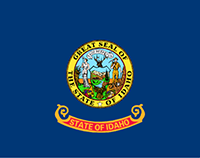 Idaho is not a state people think of when thinking about gambling. There are a few forms of gambling in the state. This even includes a form of online betting.
Idaho Horse Racing
Horse racing is the oldest form of legalized gambling in Idaho. There are three racetracks in Idaho. These are Les Bois in Boise, Cassia in Burley and Sandy Downs in Idaho Falls. Guests may wager on horse races live at the track, as well as on simulcast racing in the race book. Phone wagers are also accepted.
Idaho racetracks hosted instant racing machines from 2013 to 2015. These devices were similar to slots. After two years, the state legislature repealed the law permitting the games. This was done after fierce lobbying by opposing gaming interests.
Idaho Governor Butch Otter vetoed the bill that forced the state's racetracks to unplug these machines. State law requires a governor's veto to occur within five days of passage by the legislature. The Idaho Supreme Court ruled that Otter missed this deadline, forcing the state's instant racing model out of business.
North Dakota licenses Bet America which accepts legal online wagers for horse racing, dog racing and fantasy sports. This is legal for residents of this state (please read their terms and conditions to ensure this has not changed).

Idaho Reservation Casinos
Idaho permits state tribes to offer casinos. Reservation casinos in Idaho do not offer table games like blackjack or craps. Only slots, video poker, bingo and off-track betting are legal. Players looking for table games will need to go to Washington, Wyoming or Nevada for them.
Idaho Bingo
Charities in Idaho may offer bingo and raffle drawings. This law carries over to the reservations where commercial forms of bingo are permitted.
Idaho Online Gambling
There is only one form of legal online gambling in Idaho. That is off-track betting on horse races. Sites like TVG and TwinSpires offers this service. The state's three racetracks also have this feature through their respective websites.
In the spring of 2016, Idaho Attorney General Lawrence Wasden issued an opinion that real-money DFS competitions constitute illegal gambling in terms of state law. FanDuel and DraftKings agreed to block Idaho residents as of May 1, 2016.
There are dozens of online gambling sites that accept players from Idaho. With the exception of those pertaining to horseracing, none are licensed in the state. Players should exercise extreme caution at these sites. There is no recourse if there is any sort of dispute between the site and the bettor.
Online gaming works — it's been licensed in Europe for years, and in the US it's already licensed in New Jersey, Nevada, and in Delaware. If you are a resident of the fine state of Idaho, don't just sit there — make your voice heard.