North Dakota Gambling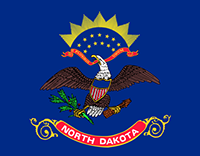 North Dakota has an unusual gaming industry. It does not have any commercial casinos. However, North Dakota permits a variety of legalized gambling.
North Dakota Horse Racing
Horse racing was the first form of legalized gambling in North Dakota. It became an organized and regulated industry in 1987, although its roots run back to the 19th century. The North Dakota racing industry has declined sharply as other forms of legalized gambling came to the market. Unlike some nearby states, North Dakota tracks are not permitted to operate slot machines.
Legal Online Gambling in North Dakota
There are two forms of legal online gambling in North Dakota. TVG and Twinspires operate online and mobile horse racing wagers. Phone wagers are also accepted. This is through simulcast off-track betting. Bettors may watch the races on cable and satellite.
Daily fantasy sports sites are considered to be legal in North Dakota although the current AG has not made a formal ruling on the subject. These sites include Yahoo, CBS Sports, DraftKings and FanDuel. Any poker, casino or sports betting site that accepts North Dakota players does so without a US gaming license. This should be a cause for concern to players considering giving action to these sites.
North Dakota licenses Bet America which accepts legal online wagers for horse racing, dog racing and fantasy sports. This is legal for residents of this state (please read their terms and conditions to ensure this has not changed).

North Dakota Casinos
There are five tribes that operate casinos on reservations in North Dakota. They are located at Spirit Lake, Prairie Knights, 4 Bears, Grand Treasure and Buffalo Rivers. These casinos are permitted to spread video poker, slots, blackjack, craps, roulette and other table games. Poker rooms are also legal at tribal casinos in North Dakota.
North Dakota has bet limits that vary, depending on the game. The maximum blackjack bet is $250 at reservation casinos. The craps bet limit is $60 with double odds. Roulette has a $60 cap. Poker is limited to a $50 bet per round with a maximum of three raises.
Slot machines may accept bets in amounts up to $25. Slots must return at least 80 percent. Video poker's minimum return is 83 percent. Slots and video poker machines are not permitted to return higher than 100 percent.
Charitable Gambling
North Dakota has an odd law that permits bars to spread blackjack. The establishments cannot directly benefit from the games. Charities operate blackjack tables and receive all proceeds. The establishment generates income from the sale of food and drinks to players. The maximum bet at charitable games is $25. The minimum bet is typically $3 although some lower volume charities operate $1 or $2 games. Charities may also operate bingo, poker and sports pools.
North Dakota Lottery
North Dakota voters approved a statewide lottery in 2002. It launched in 2004. Unlike most state lotteries, there are no scratch-off cards sold by the North Dakota Lottery. It only sells multi-state lotto drawing tickets. The state's low population made manufacturing and distributing scratch off tickets an unprofitable environment.
Online gaming works — it's been licensed in Europe for years, and in the US it's already licensed in New Jersey, Nevada, and in Delaware. If you are a resident of the fine state of North Dakota, don't just sit there — make your voice heard.