Oklahoma Gambling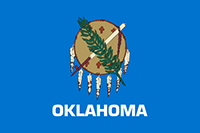 There was just one form of legalized gambling in Oklahoma until 2004. That was horseracing. Oklahoma approved a state lottery and casinos in 2004 on the same ballot. Oklahomans enjoy a few forms of online gambling.
Oklahoma Horse Racing
Oklahoma horseracing dates back to the 1800s. Betting was legalized by the Oklahoma Horseracing Act in 1982. It went into effect in 1983. The Oklahoma horseracing industry boomed after that became law.
The expansion of tribal and lottery gambling in the state put the racing industry into decline. There are just three racetracks that still operate in Oklahoma. They are:
Fair Meadows Race Track in Tulsa
Remington Park in Oklahoma City
Will Rogers Downs in Claremore
Oklahoma Lottery
The Oklahoma Lottery was created through a bill in the 2003 state legislature. Oklahoma voters affirmed the constitutional amendment on November 4, 2004. The Oklahoma Lottery sells scratch-off tickets and holds lotto drawings. In addition to daily lottos, Oklahoma joins some interstate pools. Powerball and Mega Millions are among the Oklahoma jackpot drawings that combine tickets across dozens of states.
North Dakota licenses Bet America which accepts legal online wagers for horse racing, dog racing and fantasy sports. This is legal for residents of this state (please read their terms and conditions to ensure this has not changed).

Oklahoma Casinos
Voters approved tribal casinos on November 4, 2004. That is the same day as the lottery's constitutional amendment. Reservation casinos in Oklahoma are permitted to offer electronic bingo machines, live poker, off-track betting and table games.
There are some odd rules to table games in Oklahoma. Many casinos in Oklahoma charge an ante to receive a hand at a table game. This money goes directly to the house. The amount is typically $.50 per hand if it applies.
Oklahoma Online Gambling
The only form of online gambling legal in Oklahoma is horseracing. Bets may be made over the Internet and on mobile apps. Platforms include Android and iOS. TVG, TwinSpires and BetAmerica are sites that access online and mobile horseracing wagers from Oklahomans.
Daily fantasy sports are available in Oklahoma. This is where players enter a pool by picking a list of athletes. Points are awarded based on the performance of the players involved. The winners, often the top 10-20% of the pool, take home cash. Football, baseball and basketball are the most popular sports. Others include hockey, soccer, mixed martial arts, golf and auto racing.
Some states are fighting daily fantasy sports. No such action has occurred in Oklahoma. The state's attorney general has avoided the topic. The sites appear to be legal in the state. In January 2016, Rep. Justin Wood launched House Bill 2278, the Oklahoma Fantasy League Act, with the aim of regulating daily fantasy sports and protecting consumers.
Oklahoma daily fantasy sites include DraftKings and FanDuel, which make up about 90 percent of the industry's market share. Yahoo and CBS Sports are also open to Oklahoma daily fantasy sports players.
Oklahoma Bingo
Charities are permitted to offer traditional bingo games. Tribal casinos offer standard bingo games, as well as electronic variants.
Online gaming works — it's been licensed in Europe for years, and in the US it's already licensed in New Jersey, Nevada, and in Delaware. If you are a resident of the fine state of Oklahoma, don't just sit there — make your voice heard.