Mississippi Gambling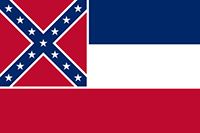 Mississippi has a long history of gambling. Riverboats were home to poker and games of chance as early as the 1800's. The state lost the reputation for being gambling-friendly during the early 20th century. The games moved underground and were mostly ignored by state law enforcement.
The state's conservatives denied the state's past as one of the most liberal southern venues in terms of gambling until 1990. That is when casinos were legalized by the state legislature. The first licensed casino boat opened in 1992.
Early Mississippi casinos were required to be on boats until 2005. That is when Hurricane Katrina leveled the Gulf Coast's gaming industry. A change in law now permits casinos to be built within 800 feet of the Gulf of Mexico. This was the only way casinos were able to reopen as an insured entity.
The most well known Mississippi gaming market is Biloxi. It is located just west of the Alabama state line. It serves Mobile and Montgomery, as well as many players from Atlanta and the Florida panhandle. There are also casinos in Gulfport and Bay St. Louis along the Gulf Coast.
The other major casino market in Mississippi is Tunica. It is located just outside of Memphis. Tunica has seen declines in gaming revenue since Arkansas legalized gaming. Harrah's, Tunica's largest casino, shuttered in 2015 due to the market's loss of business. There are two reservation casinos in Mississippi, as well a commercial one in Vicksburg.
Mississippi Online Gambling
In January 2016, Mississippi Attorney General Jim Hood concluded that: "Fantasy sports wagering is illegal in the state of Mississippi under current law". Since this decision, there was no action by the Mississippi government to stop daily fantasy sports in the state. Senate Bill 2541, which pertains to DFS, was introduced in February 2016 and signed into law the following May making daily fantasy sports legal in Mississippi.
Attempts to legalize online gambling started in 2012. The Mississippi Lawful Internet Gaming Act was introduced by Rep. Bobby Moak that year. It failed to gain enough interest to have a committee hearing. The bill returned year-after-year but never generated enough support to go anywhere. The bill would legalize online poker and casino games in Mississippi. Moak plans on introducing the same bill in 2016.
Mississippi Bingo
Charities are permitted to offer bingo for real money. The same charity gaming law also permits raffles.
Online gaming works — it's been licensed in Europe for years, and in the US it's already licensed in New Jersey, Nevada, and in Delaware. If you are a resident of the fine state of Mississippi, don't just sit there — make your voice heard.